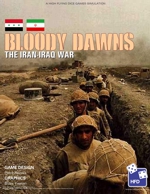 BLOODY DAWNS


The Iran-Iraq War

Bloody Dawns: The Iran-Iraq War is a two-player grand strategic level card driven wargame depicting the struggle between Iraq and Iran from September 1980 to August 1988. This terrible confrontation between Saddam Hussein and Ayatollah Khomeini drastically changed the geopolitical balance of power in the Gulf and was the last Total War of the 20th Century. Its events still shape and influence those of today.

As

a grand strategic card driven game with boxes, instead of hexagons, and for 4 month turns. The card driven system maintains suspense and obliges the players to coordinate carefully their actions.

Bloody Dawns : the Iran-Iraq War is designed by Pierre Razoux. He is also the author of The Iran-Iraq War, published by Belknap Press in 2015. Since 2012, he has been the Research Director at the Strategic Research Institute of the Military School (IRSEM) in Paris.

The game contains three eight turn scenarios:


· Saddam's Qadisiya, Iraq invades Iran


·

The Mullahs Strike Back, Iran invades Iraq


·

In God We Believe, Total War between Iran and Iraq


And the campaign game, Bloody Dawns, covering the entire conflict.
Game contents:
One 1

7" x 22" map | 98, double-sided and die cut unit counters and markers | One, 54 card Action and Event Deck| One rule book

Click the cover image to learn more!

Learn more by downloading this game description!
---
Hot Blood, Cold Steel is a war game simulation of the climatic battle
fought near Chawinda, India. On September 1st, 1965 Pakistani forces
launched Operation Grand Slam, an offensive intended to secure
approaches to Jammu and Kashmir provinces from India.
Outnumbered Indian frontier forces fought desperate holding actions
that successfully held the Pakistanis to limited gains that brought
them to the outskirts of their objective, the town of Phillora. On
September 15th Indian forces launched their counter-attack,
Operation Riddle, that sought to throw back the Pakistanis and take
back the crucial crossroads town of Chawinda. What ensued was the
largest tank battle of the post-WWII era to that date, one that would
only be eclipsed by the 1973 Yom Kippur War.
Game contents:

Two 11

" x 17" maps | 160, single sided unit counters and markers | One Player Aid Sheet | One rule book
Click the cover image to learn more!
The Republican cause was in serious jeopardy after a year-and-a-half of bloody fighting. Many felt it would take a miracle to rejuvenate an army that was barely hanging on in Madrid, and reeling from repeated Nationalists blows elsewhere in Spain. As winter settled in, the need for some sort of victory in the field was increasingly necessary as France and the Soviet Union began wavering in their support, and Great Britain stepped up its "blockade" that in reality only helped the Nationalists.
One of the most direct threats to Republican survival was the salient to the south of Madrid. Any further Nationalist gains in that sector could cut-off the capital's link to the rest of Republican-controlled Spain. With little to lose and much to win, General Enrique Lister's 11th Division was placed in the vanguard of the Republican counter-attack. Their goal was to take the key defensive position of La Muela de Teruel—Teruel's Tooth.
Game contents:

One
11" x 17" map | 63, double sided unit counters and markers | One rule book
Click the cover image to learn more!
---
NEWS (UPDATE):
FYI: The order form is currently being updated. Referencing that, all games listed as $17.95 will have their prices changed to $20.95 and all games listed as $5.95 will have their prices changed to $7.95. Please be aware that this price change takes effect immediately and superceeds and price list on the order form.
Be sure to join our e-mailing list to get the latest news about High Flying Dice Games and exclusive offers for e-mailing list members. As a member of that list, you'll learn what games will be our next Professional Series game which means die cut counters.
WHEELS OF CHANGE
The US Auto Industry of the 1950's
Explore the NEW Future of the AMERICAN Road!
This game is currently in the testing stage and graphics have yet to begin in earnest.
Copies Available!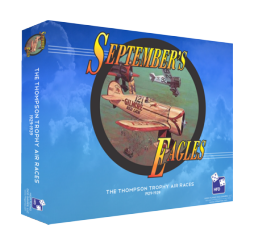 September's Eagles
The first Thompson Trophy contest was a six lap race about a course marked by three pylons. As planes became increasingly more powerful and fast, and the numbers of attendees grew by thousands each year, the length and challenge of the race also increased. Nearly each year the number of pylons and size of the race course, as well as the number of laps, were increased. The risk and toll on planes and pilots also rose. From the very first in Cleveland, air racing was marked as the most dangerous of all sports.

September's Eagles recreates the excitement of the Golden Age of Air Racing. The game is for 2-4 players with an Action Card Deck using interactive play to fly the airplanes and wreak havoc among the other players.

Game contents:
54 card Action Deck | 33 Pilot Cards | 36 Plane Cards | 22" x 34" racing map | 36 Plane tokens and various game markers | 16 page Racing Program | 20 page illustrated Rule Book | 4 Player Mats
---


Have a question about the games or ordering? We are right here to answer any of your questions! Send us an email at support@hfdgames.com and we'll be happy to answer them all.