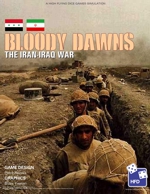 BLOODY DAWNS


The Iran-Iraq War

Bloody Dawns: The Iran-Iraq War is a two-player grand strategic level card driven wargame depicting the struggle between Iraq and Iran from September 1980 to August 1988. This terrible confrontation between Saddam Hussein and Ayatollah Khomeini drastically changed the geopolitical balance of power in the Gulf and was the last Total War of the 20th Century. Its events still shape and influence those of today.

As

a grand strategic card driven game with boxes, instead of hexagons, and for 4 month turns. The card driven system maintains suspense and obliges the players to coordinate carefully their actions.

Bloody Dawns : the Iran-Iraq War is designed by Pierre Razoux. He is also the author of The Iran-Iraq War, published by Belknap Press in 2015. Since 2012, he has been the Research Director at the Strategic Research Institute of the Military School (IRSEM) in Paris.

The game contains three eight turn scenarios:


· Saddam's Qadisiya, Iraq invades Iran


·

The Mullahs Strike Back, Iran invades Iraq


·

In God We Believe, Total War between Iran and Iraq


And the campaign game, Bloody Dawns, covering the entire conflict.