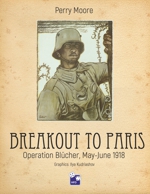 BREAKOUT TO PARIS

Operation Blücher

May-June, 1918

Breakout to Paris depicts the third German Aisne offensive. It followed Operation Michel in March. General Erich Ludendorff was determined to win the war, and these offensives were Germany's last attempts. Ludendorff's earlier Operation Michel was a near catastrophe for the Allies and Operation Blücher would be just as dire and another German near miss with the German offensive ending within hours of reaching Paris.

Some historians claim the two American divisions timely arrival saved Paris from calamity. The German offensive within a period of a few days had created a huge bulge and gained over 35 miles and had taken 50,000 Allied prisoners.

Game contents:
Two 11

" x 17" maps | 380, unit counters and markers | One Player Aid Sheet | One rule book

Click the cover image to learn more!
---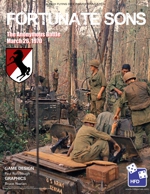 FORTUNATE SONS

The Anonymous Battle

March 26, 1970

The NVA laid a clever trap for their nemesis, the 1st Air Cavalry Division, in the remote northern region of Tay Ninh Province, not far from the border with Cambodia. Charlie Company of the 8th Regiment, 1st Air Cavalry was dispatched to inspect suspicious activity by the NVA north of Fire Base Illingworth. On March 26th they were ambushed by the 1st Battalion of the NVA's 272 Regiment, 9th Infantry Division. Deep in jungle terrain, Charlie Company was cut-off and unable to call in accurate artillery or air support. The jungle canopy made impossible any extraction by helicopter. It looked like the Communists were about to wipe-out and capture over 100 US soldiers.

Four kilometers away was Alpha troop of the 11th Armored Cavalry, along with Alpha Company of the 8th Regiment of the 1st Air Cav. Commander John Poindexter, monitoring the increasingly desperate radio messages from Charlie Company wasted no time in ordering his men to "Saddle Up!" in order to rescue their trapped comrades. Busting through jungle and risking ambush, the rescue and battle fought here in March, 1970 rank among the war's most epic and amazing fights.

Game contents:
Two 11

" x 17" maps | 168, double sided die cut unit counters and markers | One Player Aid Sheet | One rule book
---
NEWS (UPDATE):
Be sure to join our e-mailing list to get the latest news about High Flying Dice Games and exclusive offers for e-mailing list members. As a member of that list, you'll learn what games will be our next Professional Series game which means die cut counters.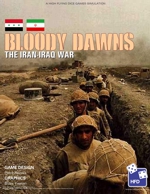 As

a grand strategic card driven game with boxes, instead of hexagons, and for 4 month turns. The card driven system maintains suspense and obliges the players to coordinate carefully their actions.





This game design is by newcomer Pierre Razoux, author of several books on the Middle East and held positions as researcher at the NATO College in Rome with responsibility for the Middle East, Research Director for "compared strategic thoughts" at the Strategic Research Institute of the Ecole Militaire.

This game will feature a 17" x 22" map, about 98 unit counters, a deck of cards as well as an illustrated rule book.

Learn more by downloading this game description!
Copies Available!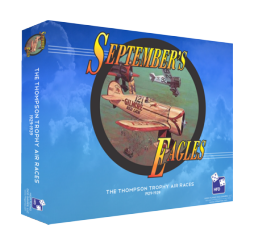 September's Eagles
The first Thompson Trophy contest was a six lap race about a course marked by three pylons. As planes became increasingly more powerful and fast, and the numbers of attendees grew by thousands each year, the length and challenge of the race also increased. Nearly each year the number of pylons and size of the race course, as well as the number of laps, were increased. The risk and toll on planes and pilots also rose. From the very first in Cleveland, air racing was marked as the most dangerous of all sports.

September's Eagles recreates the excitement of the Golden Age of Air Racing. The game is for 2-4 players with an Action Card Deck using interactive play to fly the airplanes and wreak havoc among the other players.

Game contents:
54 card Action Deck | 33 Pilot Cards | 36 Plane Cards | 22" x 34" racing map | 36 Plane tokens and various game markers | 16 page Racing Program | 20 page illustrated Rule Book | 4 Player Mats
---


Have a question about the games or ordering? We are right here to answer any of your questions! Send us an email at support@hfdgames.com and we'll be happy to answer them all.